Sell my MacBook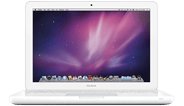 Get a trade-in quote for your old Apple MacBook . We promise to pay 100% of the price quoted or send you back your MacBook for free!
Find your MacBook
Select your MacBook model and see how much we'll pay...
Sell your MacBook with Mazuma!
Have you got a MacBook that's old or needs repair? Or maybe you have the latest model MacBook and it's not quite the laptop for you. We can buy your device from you no matter the quality or condition so you can upgrade to the perfect laptop that's right for you.
The MacBook was one of the most popular laptops in the world, delivering a premium experience for professionals and home users alike. In Apple's product line it was considered a more premium device compared to the second-generation MacBook Air and sat below the performance range of the MacBook Pro. In 2019, the MacBook was discontinued and superseded by the third-generation MacBook Air which had a 13.3inch Retina display with thin bezels.
If you would like to make the upgrade yourself but don't have the cash, why don't you sell your old Apple Mac to us at Mazuma Mobile? We'll send you the 100% of the money we quoted as swiftly as we can, and if we can't match the quote, we'll send your MacBook back to you. Discover how easy it is to recycle your old tech below.
How to Sell your MacBook with Mazuma!
Selling your MacBook to us couldn't be simpler! Just follow the steps below and we will put cash in your pocket while we handle the recycling of your device for you.

Find the MacBook model you have on our site, get your free quote and request a sales pack.
Wait for that sales pack to arrive.
Once it has, you just need to follow the instructions to safely package up your device before you send it off to us.
We'll send you your money swiftly once your MacBook arrives with us, and our price guarantee means you'll receive 100% of the quoted amount, or we'll send your laptop back!

If you're concerned about security and your data, then don't worry as we wipe all laptops that get sent to us.
If you're still unsure, you can learn more about how it works when you send your MacBook to Mazuma in our guide.